Setup an Ethernet based Local Area Network (LAN)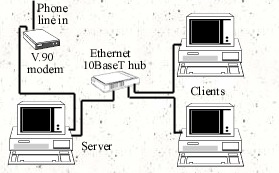 Note: If you have an internal modem then this diagram would look slightly different
| | |
| --- | --- |
| | Install one NIC into each computer in the network. Note: you may be asked for you Windows 95/98/Me/2000/XP CD-ROM. |
Upon boot-up Windows 95/98/Me/2000/XP should prompt you for the detected new hardware.
Go into the control panel for server and each client and open the network icon.

| | |
| --- | --- |
| | Add the following to configuration: |
| | Client for Microsoft Networks |
| | NetBEUI -> for each NIC (Microsoft peer-to-peer network) |
| | TCP/IP -> for each NIC (Transmission Control Protocol/Internet Protocol) |
| | File and printer sharing for Microsoft Networks |
| | Add the following to Identification: |
| | Computer name - uniquely defines each computer within the network |
| | Workgroup - should be the same for each computer within the network |
| | Computer Description - identifying name for this computer (informational only) |
| | Add the following to access control: |
| | Select share-level protection for your computer |

Connect server and clients to the Ethernet hub using 10BaseT cabling
Restart the computers in the network. On the desktop, there is an icon Network Neighborhood, open this and you should see each computer within the network. If you do not see all the computers in the network, something is configured wrong. Go through the previous steps to ensure that all procedures have been followed.
Points to check if your network is not functioning properly:
| | |
| --- | --- |
| | Each computer has a unique computer name |
| | All computers have the same workgroup name |
| | In control panel, open the system icon and ensure that the NIC's are recognized properly |
| | Ethernet 10BaseT cables are hooked up properly |
Your Network is functioning correctly, let's evaluate the software choices to accomplish Internet sharing.